Pigeon Post and Wire Kit for Surface Mounting – 90m Kit
£179.95
Ready made kits with all you need to fit post and wire bird proofing onto surfaces you can't drill into.
Our Customer Promise...
As chosen by Pest Professionals
Advice from qualified pest controllers if needed
Competitive online prices
Free Delivery on orders over £150
No hassle refunds
Description
Ideal for proofing metal, plastic or glass surfaces that cannot be pierced
All metal components made in stainless steel
Everything you need to complete the job in one handy kit
Available in 15m, 30m, 60m & 90m kit variants
Enough components for a double run of wire and posts set up to 65mm apart
Also suitable for mounting post and wire systems on to roof tiles & slates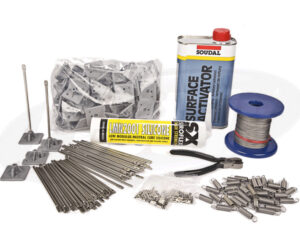 This kit is intended for use on non-masonry substrates that cannot take anchor rivets including metal, plastic, ceramics, roof tiles and glass. If you require post & wire to be used on masonry substrates then you should consider using our post and wire masonry kit or our range of specialist brackets for gutters, steel beams, pipes or rails.
This surface mount kit for pigeon post and wire provides sufficient materials for a run of front 90mm single-head posts followed by a parallel second row (max 65mm behind first row) of single-head 125mm posts.
Once the posts are seated in their surface mount bases the heads of the posts, and hence the wire, will be at a height of 90mm and 130mm respectively above the surface being protected.
Maximum linear distance between pigeon wire posts = 1500mm (1.5m).
Pigeon wire should be spring tensioned every 1500mm (1.5m) along its run, i.e. the wire should stop at a spring on each post and start with a newly crimped section of the other side of the post.
In doing so you are spreading the load evenly across the post system and thus avoiding spring overload.
Do not thread the pigeon wire through the eyelets of the post and onwards to the next post, as this will cause the system to sag and go out of shape.
The system should be counter-tensioned at the end of each run using the screw-pin and plugs provided. To avoid the system from sagging do not use springs in the counter-tension wires.
It is vital that on non-porous substrates that surface activator be applied to prepare the surface before bonding.
In all cases the surface mount base should have its underside treated with surface activator prior to bonding.
ALWAYS insert the bird post into the surface mount base before you stick the base down, this ensures that glue does not set in the post socket (which makes it impossible to insert the post into the socket once the glue has cured) and that the base does not become delaminated whilst trying to retrofit the post into its socket.